These are the some of the dogs we have helped, enjoying there new homes.
Zema
Zema is her name. she came to us through Cocker Spaniel Recovery Foundation. We had lost our other cocker about a year earlier. My wife was searching the internet when she came across Zema. We met her and fell in love with her. Zema is tyrosinase positive and totally deaf. I teach her using hand signals. She sits, lays down, shakes your hand and, stands on her hind legs and twirls around in a circle like a ballerina. She is currently learning to play dead. Her favorite thing to do is go for a walk. I want to thank Cocker Spaniel Recovery Foundation for their time and effort. There are a lot of people that feel deaf dogs should be put down. Shame on them! she is so full of love and brings much joy to our lives.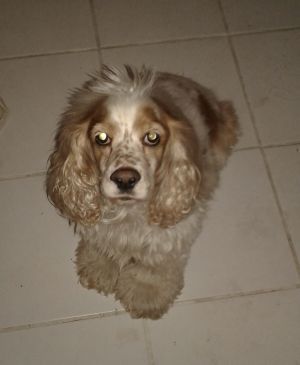 If I am ever fortunate to be come back as a dog I would hope to return as Bailey. This adorable 8 year old female Cocker Spaniel is our newest available dog for adoption or foster. Michelle Leoni, Founder of the Cocker Spaniel Recovery Foundation, Inc. is obtaining more information on Bailey. If you or someone you know are interested to add this cutie – pie to your family please contact Michelle by phone or text @ (702) 419-6825 e-mail Michelle @CSRF2011@yahoo.com. IMPORTANT: Due to continuing health issues our website coordinator is unable to continue posting the Cocker Spaniels that need to be adopted or fostered. We are seeking a volunteer to take over this position. You must have some computer skills with regard to uploading and posting pictures of the pets and also write short bio's about these fine dogs. Forms, brochures and events would be part of the skillset. Knowledge of WordPress software platform would be preferred but not required. A willingness to help save the loving and most adorable Cocker Spaniel breed is enough. If you are interested please contact Michelle Leoni @ (702) 419-6825. Thank you to all the unsung volunteers for their BIG HEARTS!
Adult, Female, Medium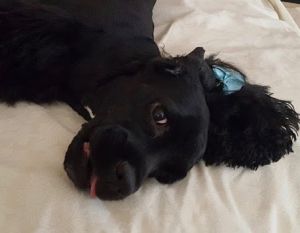 Heaven dropped another Angel on earth for pet lovers. ANGEL is a 5 to 7 year old Black American Cocker wth full of energy and playfulness. She will add so much joy, laugher, loyalty and companionship to you and your family. She does well with other dogs but we prefer she be the only dog since she considers herself to be the princess and leans toward being the lead dog. We can aslo introduce ANGEL to your existing pets. Angel shows no food aggression and loves to parade herself when she goes for walks without pulling or tugging. Her gross weight is 18 pounds and aside from her enthusiactic appetite she still manages to maintain her girlish figure. She is up on her shots and her implanted microchip is current on information. If you wish to meet with Angel please give Michelle Leoni a call at 702 419 6825. US residence only please.
Young, Female, Medium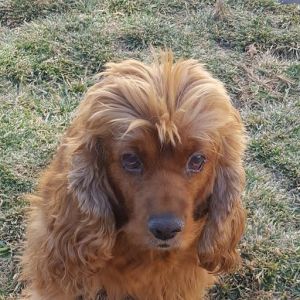 ROSIE is a Red American Cocker Spaniel and the owner surrender can no longer take care of due to personal misfortune. We are always concerned about the safety and wellness of our rescued Cocker Spaniels, and Rosie's health is without exception. She is on thyroid medication which is given orally and is low in cost to purchase. ROSIE NOTES: Doggie Dog No food aggression No toy aggression Comfortable with other animals If you are interested in ROSIE please contact Michelle Leoni, Rescue Foster coordinator @ 702-419-682 For information on the Cocker Spaniel Recovery Foundation, Inc go to: cockerspanielrecovery.com
Senior, Female, Medium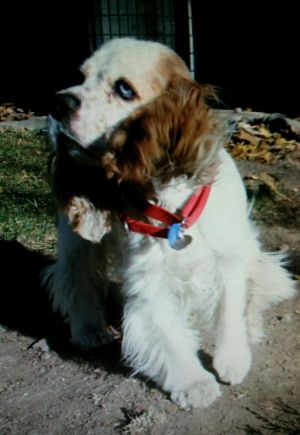 If you want a one of a kind Cocker Spaniel Beauty don't wait to bring me home. I am a blue - eyed, brown eared, freckled faced 5 year old female. People stop to watch me playing with big and little humans. I hear them talk about my gorgeous blue eyes, and docked tail that moves like a hummingbird. I hear them go "Awww" when they see my cute little heart shaped patch on my right side. I know I will not be available for long. If your interested to love and play with adorable me please call Michelle at 702 419 6825 or e-mail @ csrf2011@yahoo.com. For more information on being a foster or to adopt go to cockerspanielrecovery.com.
Young, Female, Medium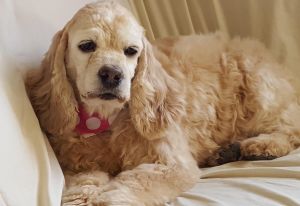 "I can recite the "Gettysburg Address" (More like the Kibble & Bits song) for a walk. Although, I am as cute as a pistol (What does that actually mean?) I will sound the alarm, blow the bagel (Bugle), and bring in the guard to protect my family when things go bump in the night. For more information on adorable me go to cockerspanielrecovery.com or call Michelle Leoni @ (702) 419-6825.
Adult, Female, Medium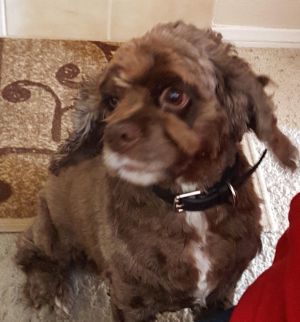 Jazzi is a sweet 3.5 year old female American Cocker Spaniel in need of a forever home. She gets along with her current roommate, another female cocker. She is well behaved and could also be happy as an only dog, hogging all the attention with belly rubs a must. Jazzi graduated from obedience school trained in basic commands. She is familiar with using a doggie door, and is current on shots and micro - chipped. If you are interested in Jazzi please contact Michelle at  702 419 6825 or e-mail @ csrf2011@yahoo.com. For complete bio go to cockerspanielrecovery.org
Young, Female, Medium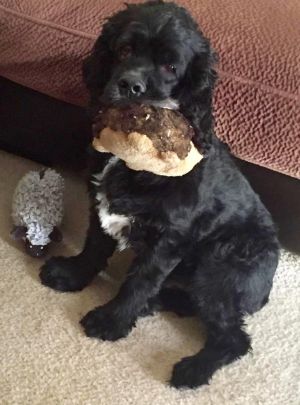 JORDAN is a young 5 year altered male with a lot of energy and love to give. He loves to go for walks, gets along with other dogs, loves to cuddle and wants to share his bed (your bed) with you. JORDAN is micro – chipped and current on all his shots. If you can't live without this "goof ball" in your life, then please give the Cocker Spaniel Recovery Foundation a call and arrange for a meet and greet. Contact Michelle @ 702-419-6825 for additional information.
Young, Male, Medium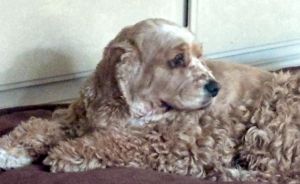 Freckles a.k.a Freckalina is a 7 year old energetic, tan and white Cocker Spaniel, her name comes from the ticking on her nose, hence the name Freckles. Freckles also ( we've) been told understands 7 foreign languages, French being the prominent one since her owner was from France. Freckles came to the foundation when her owner passed away and now it's time for the Cocker Spaniel Recovery Foundation to find Freckles another permanent loving and fun home. She is very loving and gets along with cats. For more information go to: cockerspanielrecoveryfoundation or contact, Michelle Leoni @ 702-419-6825 or email me @ CSRF2011@YAHOO.COM *Information to be confirmed by new owner*
Senior, Female, Medium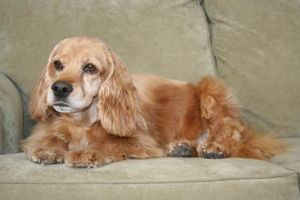 Meet Manny.   He is a cute red cocker spaniel with lots of love to give.   His age is estimated to be 9 years and he is neutered and micro chipped and has just had his teeth cleaned.     He is good with older kids and other dogs.   He also likes babies but occasionally needs breaks and isn't sure how to communicate that yet.   Manny does very well going potty outside and wants to be with his human companions as much as possible.   We have taught him that a crate is a safe environment.   It is currently where he sleeps and goes when there are no humans around to let him outside to potty.     His past is unknown since he was found as a stray and turned into The Animal Foundation which is where we rescued him.    So by now you are probably wondering how the heck he ended up with such a silly name like Manny.   The truth is we have tried a few names since getting him and it seems to be the one he responds to best.   We were inspired to try it because of the movie Ice Age.   He is the same coloring as the lead Mammoth "Manny" and his favorite treat is ice!   We even used it to teach him how to sit.   His other favorite treat is carrots.   He also loves to run after a ball, we are working on bringing it back, and play with squeaky toys.   Although he loves ice, carrots and toys his favorite thing of all is curling up on the couch with his human companions.
Adult, Male, Medium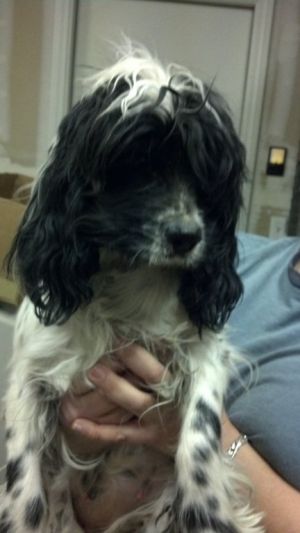 This little gal, Lanie, is a stray and was recently turned over to Cocker Spaniel Recovery Foundation.  She is estimated at under a year and her tail is cropped. She was just spayed and current on all shots and is a little under nourished, but will soon  be ready for adoption in the upcoming weeks.  Please stay tuned on Lanie.....what a sweetie pie.  She is a sweet American Cocker and is great with other dogs and children.
Young, Female, Medium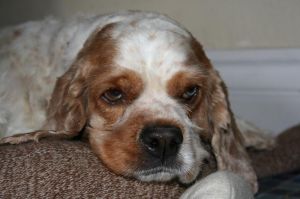 This beautiful Cocker Spaniel's name is Daisy.   We picked her up at The Animal foundation where she had been pulled off the streets as a stray.   She is very sweet, about 3 -5 yrs young and always ready to roll over for a belly rub or to cuddle on the couch for a movie.   Daisy is spayed, micro chipped and up to date on her shots.    Her most interesting features are her eyes.    One eye is blue and the other is half blue and half brown.   Since we got her, she is yet to have an accident in the house.   Not only is she super smart about where to go potty, but she is also smart when it comes to getting her way.   She is the first and only dog to discover a way out of the tiled area of my house that is gated off with baby gates.   Daisy figured out that she could hop on top of my computer tower to jump over the gate in order to follow me around while I was doing chores on the carpeted section of my house.   Daisy is doing very well with my children and my baby.   She does not like other dogs and would be best as an only dog.   She will be the perfect companion to the right HUMAN.   Adoption fee for Daisy is $150.  
Young, Female, Medium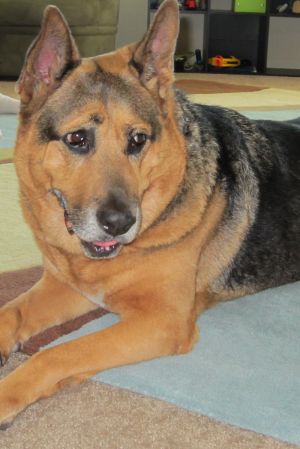 Say hello to "Shaksli".  She is a 7 year old German Shepherd/Akita mix.  She was recently rescued from Lied and is looking for her forever home.  She is spayed and has a gentle demeanor.  She is currently in a foster home.  
Adult, Female, Large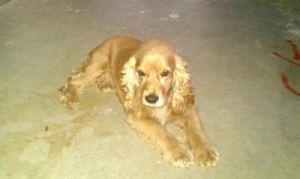 Polo is a buff colored Cocker Spaniel, maybe 2 years old, neutered, chipped and current on shots.   Polo would make the perfect household pet, as he is sweet, and lovable like the all american family dog.  His tail is not cropped and it wags constantly.  Polo adapts easily and is good with other dogs.  He is active and fun loving and could be a Disney dog.
Young, Male, Medium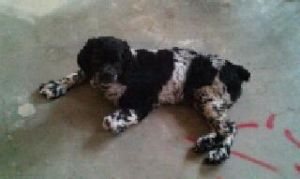 Toby is still a pup, probably no more than a year old.  He is neutered, chipped and current on shots.  Toby is a Cocker Spaniel who has a lot of puppy energy and is looking for an active family or person.  He loves to jump, run and play.   His coloring is beautiful and he has the sweetest face ever.   He would do well with other dogs that are dog friendly and who love to play.
Young, Male, Medium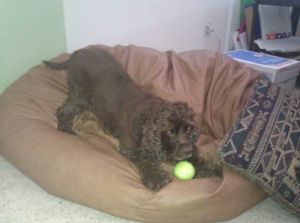 Hunter is a 5 + yr old chocolate Cocker Spaniel that is chipped,neutered and current on shots.  He is an active, sweet dog who LOVES being with his human.  He is potty trained and uses a doggie door, loves to go for walks and hang with his family.  Hunter aka Chewbacca will welcome you home each and every day with his happy feet dance.
Adult, Male, Medium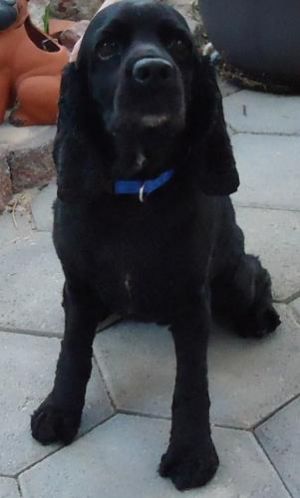 Eddie is approx. 5, neutered, chipped and current on shots.  He is an adorable fun loving guy and would make a great adult companion.  He is well behaved and small (24 lbs) but is a little protective of his human when it comes to other dogs wanting attention.  Adopt Eddie and make that stubby little tail wag all the way home.
Adult, Male, Small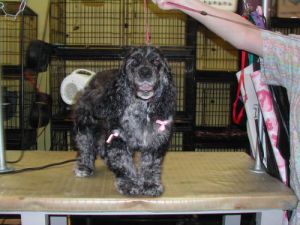 Shanti is a lovable, sweet girl. Just 3 years old, would make a great pet for a family or an individual. She's great around kids and other dogs. Rehoming Fee is $150.00.
Young, Female, Medium